Since this post is about food and wine in Cape Town, I though I'd share a pretty picture of the pretend ice cream we used at one of our locations. Craft Services in Cape Town, pretty much like Craft Services in Toronto but therein ends the similarity. Food and wine in Cape Town is plentiful, fantastic and cheap.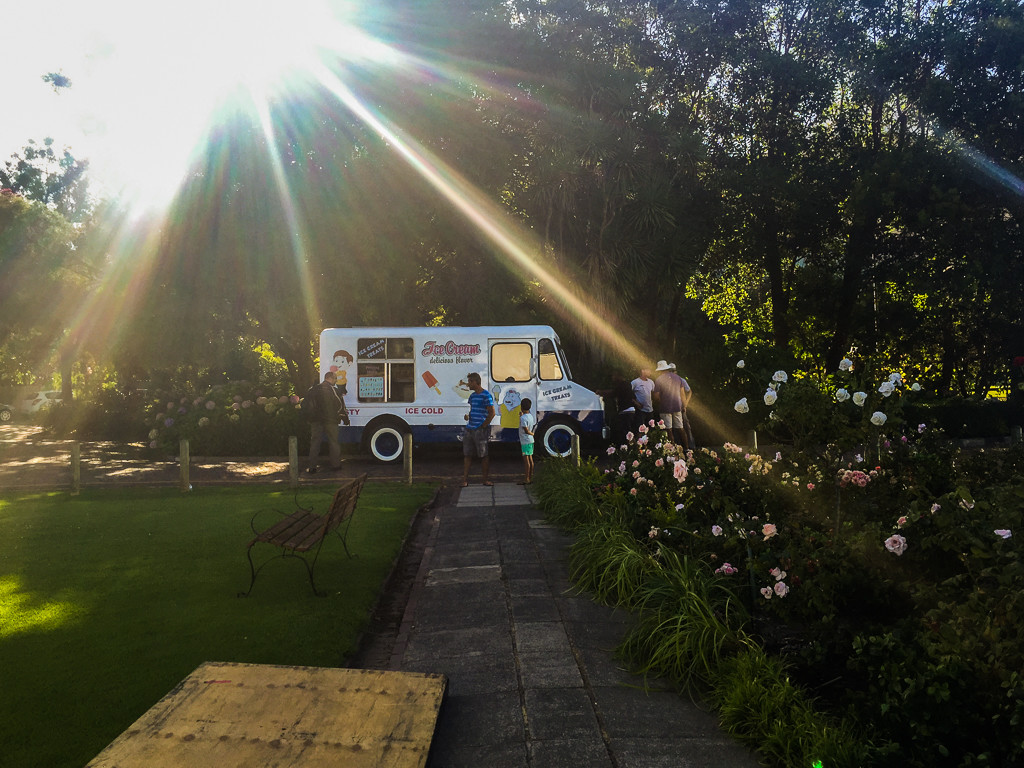 By the way, if you're just here for the photography scroll down to see my gallery of the Stellenbosch wine region. If you're into food and wine, stick with me and I'll share a few highlights.
Wine, wine, WINE, wIne.
Before you get too excited about going on wine tours in South Africa and all the exquisite, inexpensive wine you're going to bring back let me just burst your bubble right now. Two bottles. That's what us Canadians are allowed to bring back duty-free, so enjoy it while you're there. Exception: if there is something you truly love, bring it back with you because our South African selection is very limited here.
And now, a caveat. I am not a wine expert. I like what I like; mostly dry red wine. I have a decent palate. I've tasted lots of wine as an ex-server/bartender and I've been on similar tours. I did some workshops in university and I've had dinner with wine…a few times. I know nothing beyond  what I personally enjoy so take this all with a grain of salt.
I had two wine experiences while in Cape Town. The first one happened on Day # 4 of my trip when I forgot my camera battery at the hotel. It seemed like a logical thing to do sans camera and I'm glad I did it. This tour was easily accessible off the blue line of the red CitySightseeing bus. See my previous post about riding the bus here.
CONSTANTIA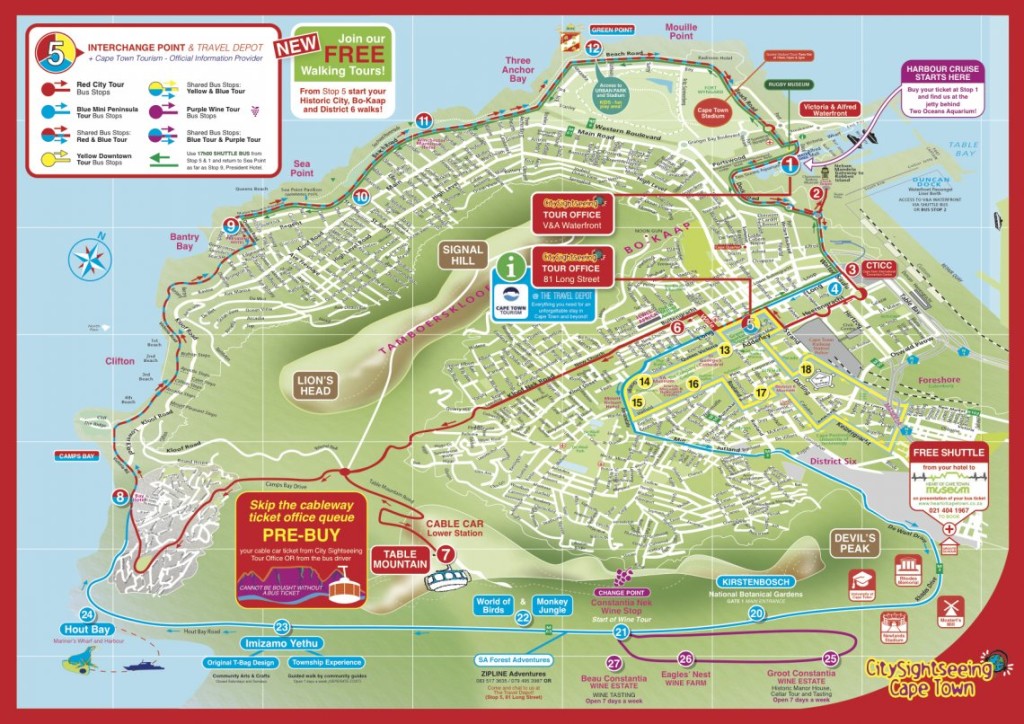 If you look way down at the bottom of the bus map you'll see the purple line including stops at Groot Constantia, Eagle's Nest and Beau Constantia. Full disclosure, you can get better and much more elaborate wine tours but when short on time, it's a really easy way to get some wine time in. Also, since you already have your bus ticket for the day, the only additional costs to you are your tasting fees and any wines you buy. *Note: I only made it to the first two stops as I spent the early part of the day at Kirstenbosch botanical gardens, (where I discovered the missing battery), so I can't address Beau Constantia.
Groot Constantia had a lovely, old world setting. There's a museum you can tour which is pretty cool, even from the outside.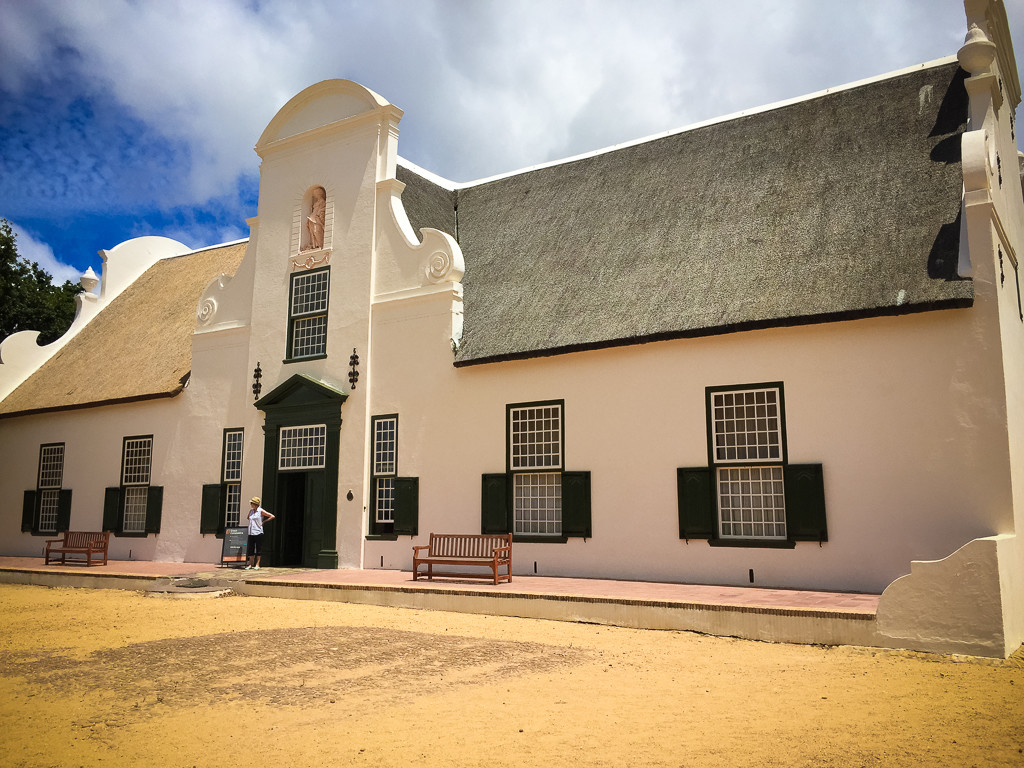 The winery tour itself pretty standard. You get a few specifics about  their grapes and methods but the basics are the basics. To oversimplify: grapes are harvested, put in a de-stemmer, placed in vats to be crushed (with or without skins depending on colour), exposed to yeast, aged according to type and so forth.
The setting for this tasting was indoors at long tables with a place for each taster. If you've ever been a waiter and done wine training, sort of like that only the room was more…authentic. At Groot Constantia, you can add a chocolate pairing to the tasting for an extra fee.
The wine was nice but most of what we tasted was young, so strong tannin which I don't much enjoy.
Two whites: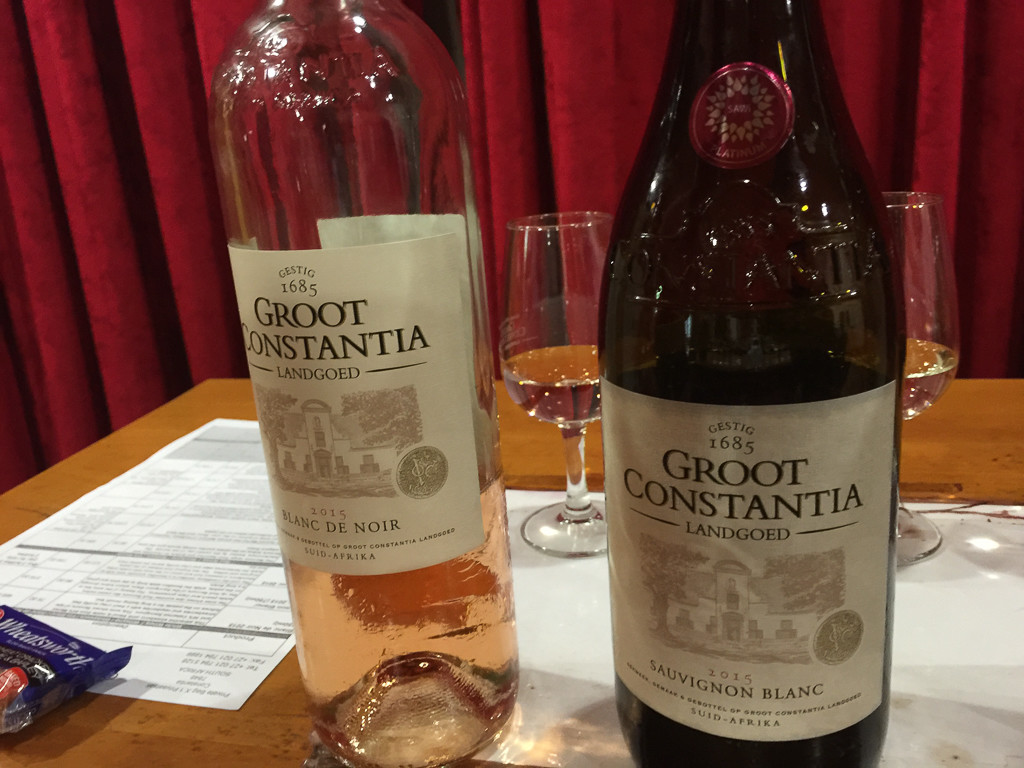 I am not a white wine drinker but the Blanc De Noir was unique with discernible green peppers. The Sauvignon was citrus'y.
Three reds: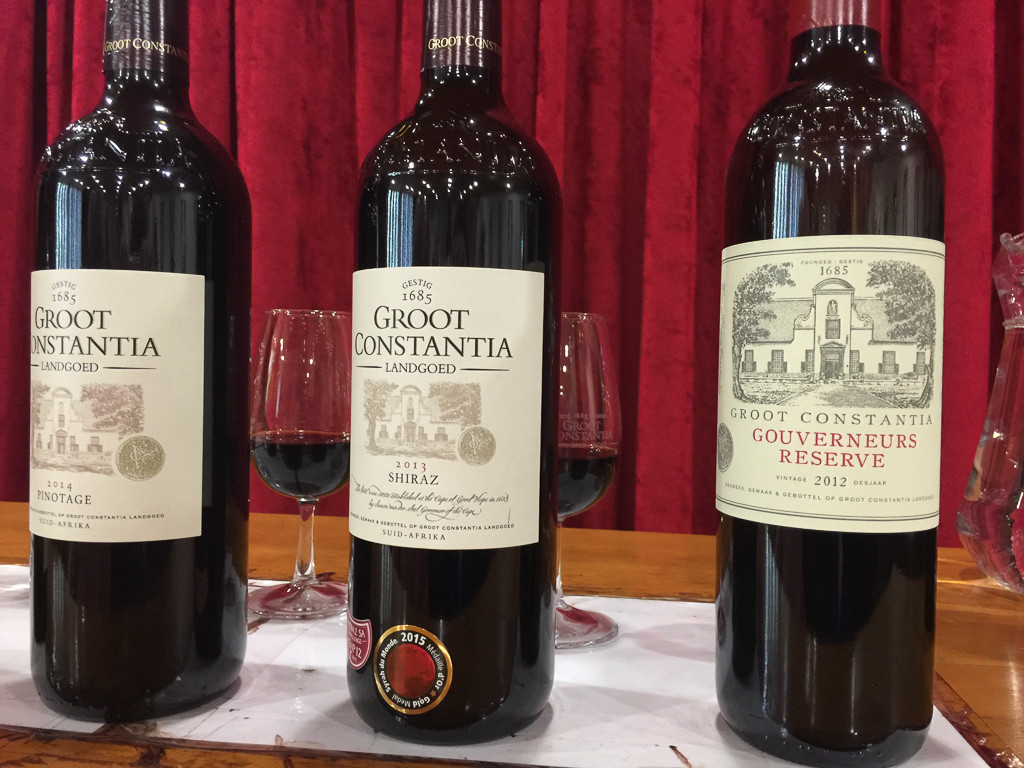 The Gouverneur's Reserve, a Bordeaux blend, was the nicest. Everything else was a bit young. Worth a taste but I didn't purchase here.
From Groot Constantia we went on to Eagle's Nest where the setting was rustic and romantic. Table service here, even if you opt to bring a picnic blanket and very casual.
Only three things went wrong on this day in Cape Town.  First, as I mentioned, I left my camera battery in the hotel room so I was relegated to using my iPhone to keep a record. Second, by this point my iPhone was down to 10% battery. Third, we got to Eagle's Nest late in the day and we were raced through the tasting so I have no idea what we actually tried. The upside is I had a nice antipasti plate in a very relaxing environment. Sometimes that's ok. Just sit, drink the damn wine, have a visit, enjoy the scenery, eat the olives and relax.
The bottom line is I would go back to this winery in a heartbeat in part because the setting was so charming. If you have kids, this is a perfect estate to visit because of the beautiful open grounds for them to play on while you take it in.
All in all, a nice day and a worthwhile tour.
STELLENBOSCH
I looked at several "actual" wine tours before I left for Cape Town and ended up going with Wine Flies. Our guide "V" was personable, knowledgeable  and had a really understated way about him which appealed to my Canadian sensibilities. He also used to be a safari guide in Kruger National Park so he  had some interesting stories about that too.
The van was small and full. Nice folks, some more lively than others but to be perfectly honest, this is the type of activity I would rather do with my husband or a group of friends. Alas, I was on my own so I had to suck it up…in South Africa.  I also had to suck up being up at the the crack of dawn which allowed me to grab this pretty sunrise from the hotel.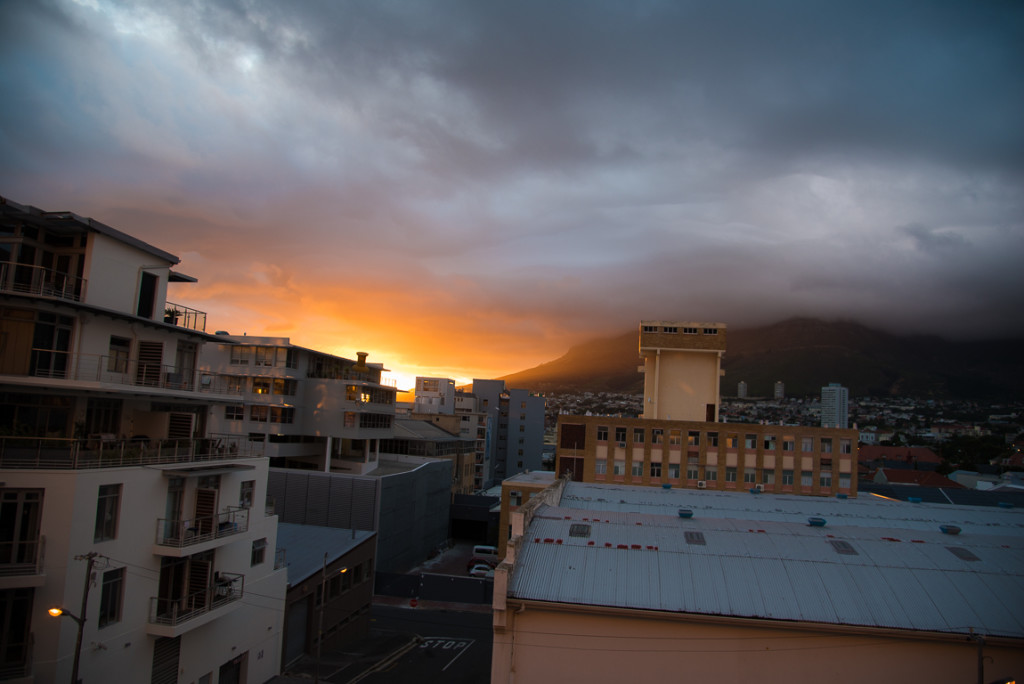 Because the van came so early, the hotel restaurant wasn't open for breakfast and I couldn't even get a coffee! Ugh! Fortunately, the first stop was adjacent to a cheese factory and a restaurant that sold me a decent latte  so I was good to go.
The Stellenbosch wine regions is adjacent to the Paarl region and the Fairview Winery which sits on the border is actually considered part of Paarl.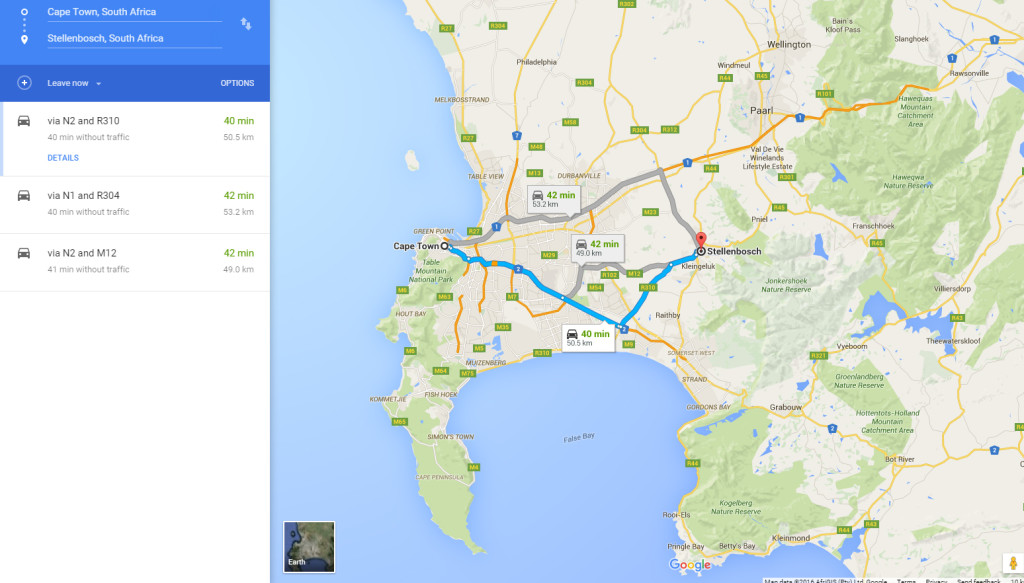 It was a beautiful setting; a stand-up situation around gorgeous oak tasting bars.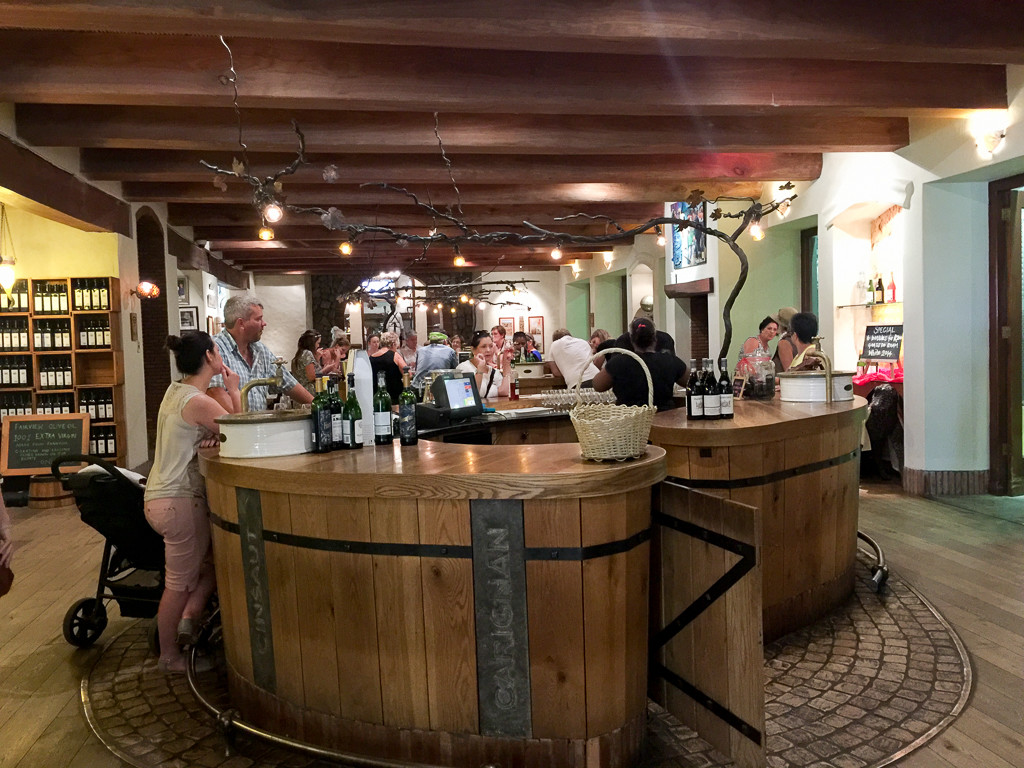 We got a good look at the wine-making facility and tasted grapes off the vines which are hand-harvested at this winery. Wine grapes are smaller than you expect–quite tiny but sweet and very edible. The really nice thing about this tasting being adjacent to a cheese factory being…cheese.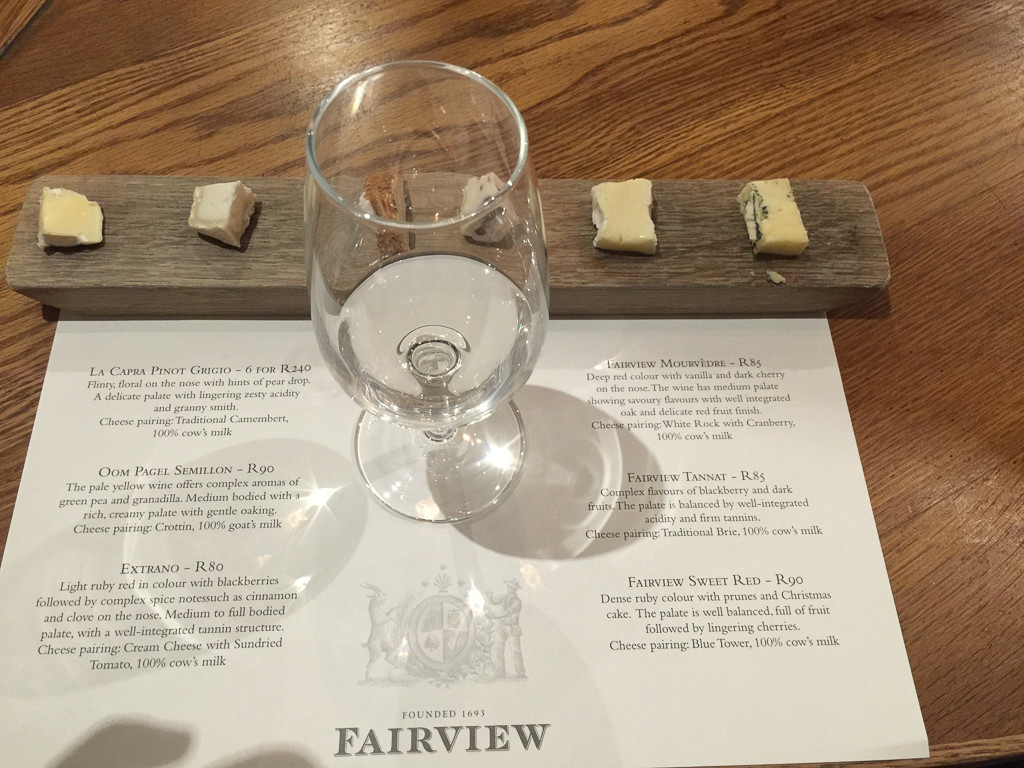 The tasting menu as above was not what we actually tried. Three of the wines were unavailable and we were moved through quite quickly. While some of the wines and cheeses were nice, I never got a handle on what we actually had. It was early…like 9:00am or something.
The Villiera winery, was our next stop and it was an unexpected highlight for me. Unexpected because we tasted South African bubbly, (which I generally have an allergic reaction to), and white wines, (which I don't often drink), that I loved. And when I say I loved one of the white wines, I mean I think I loved it more than all of the red wines I tasted on the trip. Weird. Here's the only problem: I can't remember which of these two it was. I didn't take notes. I suck that much when I drink wine in the morning.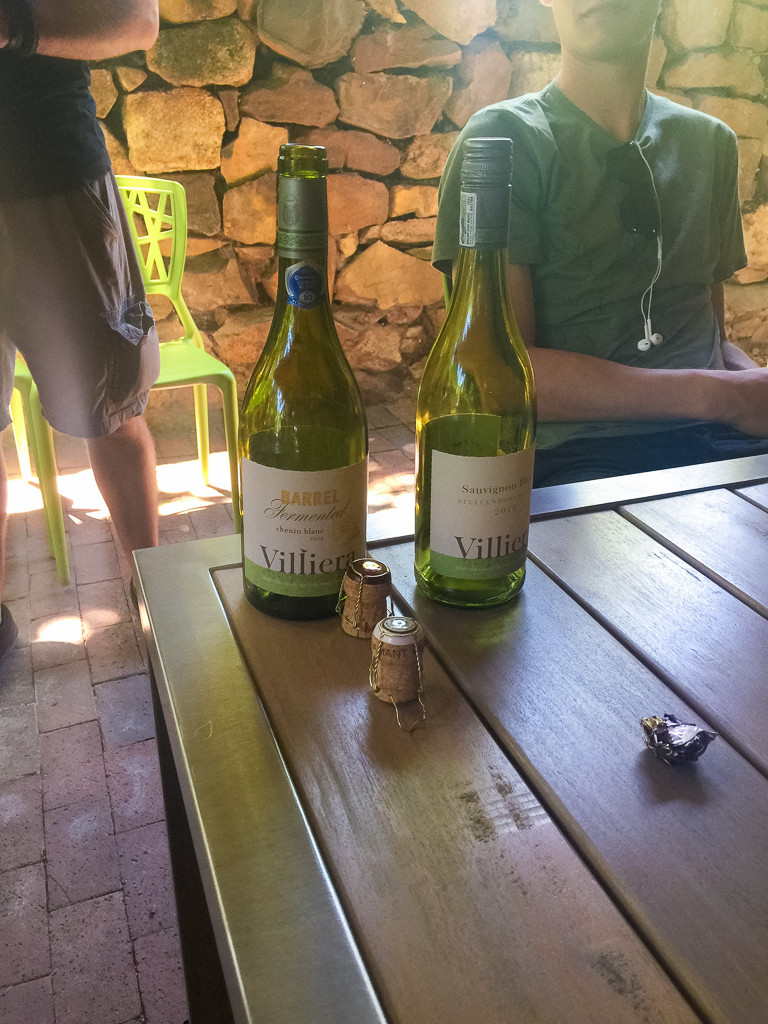 In any event, if you find yourself at Villiera taste these two wines. One of them is ridiculously delicious. Also of note, this is an eco-winery and they use less sulphites than most wineries which could explain why I didn't have a reaction to the bubbly. (I also had only a teeny, tiny sip of it so it could be that as well.) I didn't purchase here but I regret not getting that white! Here's the menu: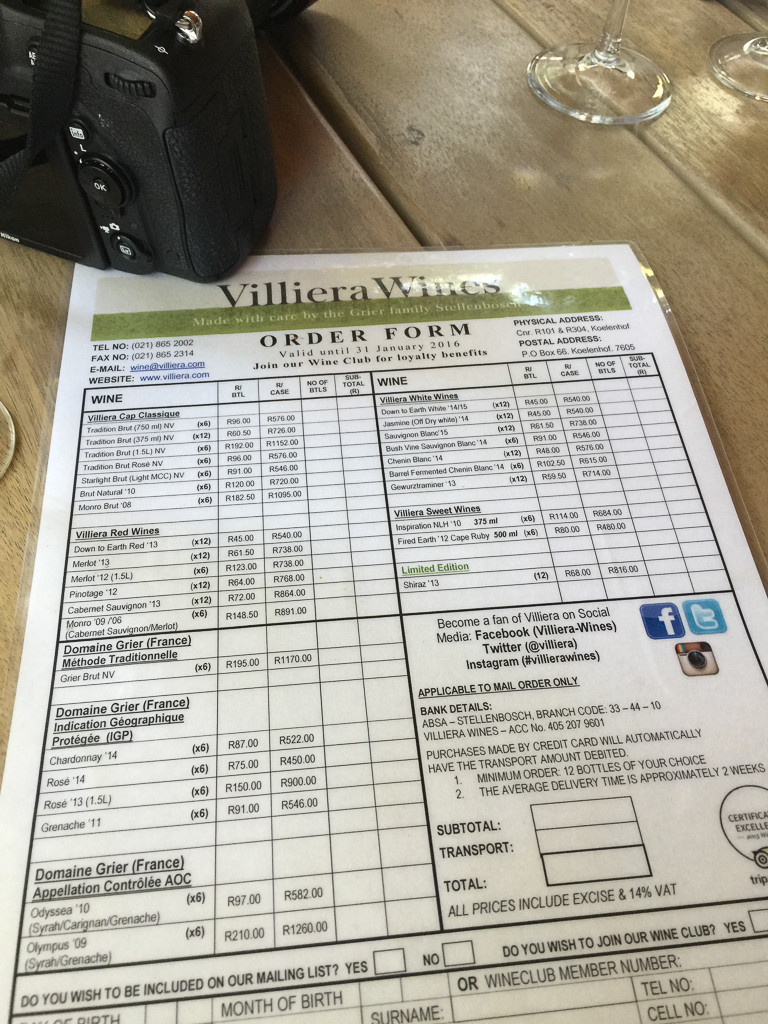 From Villiera we made our way to the Middelvlei Wine Estate where we enjoyed a South African Braai or BBQ. They were even able to provide gluten-free options for me including bread. We didn't do a formal tasting here so much. Rather we drank straight from this barrel of 2015 Merlot.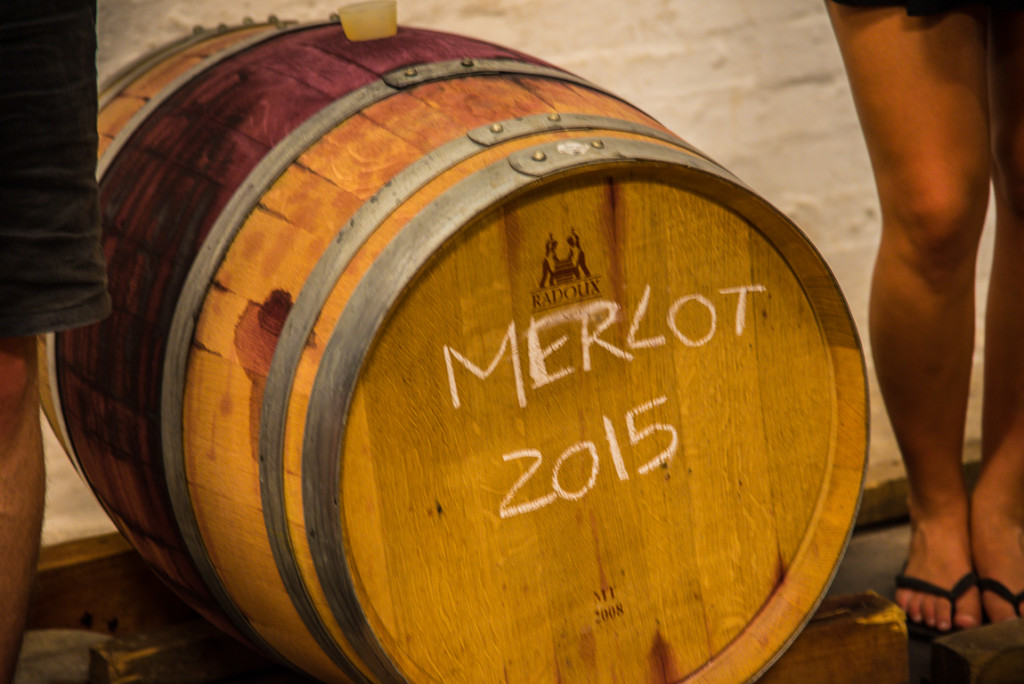 To be honest, way too young and not my thing but "V" assured us that "this wine [had] a lot of potential." I'll have to take his word for it.
On a side note, on a local recommendation we tried this 2013 Middlevlei blend which was very inexpensive, (r110 so about $9.50 CAD), and it was such an easy wine to drink. If you're just looking to pick something up on the cheap, this was great.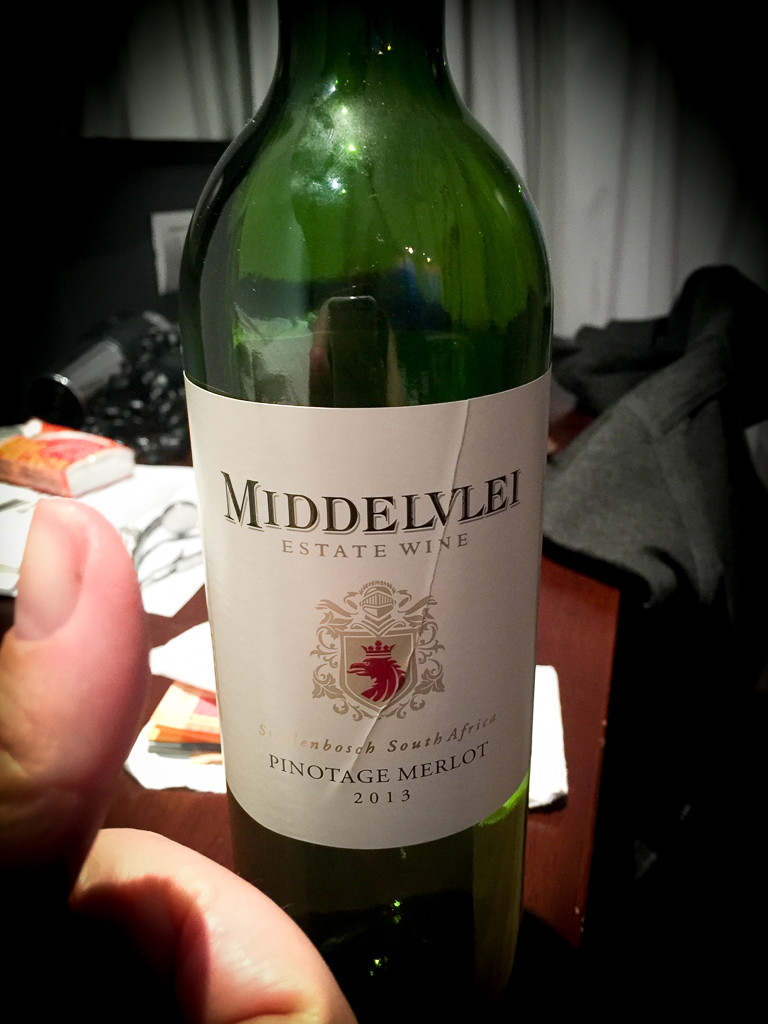 From Middelvlei we headed on to Annandale which was my favourite of the wineries both for old world ambiance and wine.
Sadly, I decided to wait until the last stop to purchase but I really regretted not purchasing here. All three reds were very nice but in particular the Cavalier and the Shiraz. If you get the chance, visit this winery and treat yourself to a couple of bottles.

Our last stop was a boutique winery called LovanE. Boutique meaning, tiny. As I recall, something in the realm of 18k bottles produced annually so they don't export any of it. If you want to taste this wine, you have to go to Lovane. The tasting here was a wine and chocolate pairing which was a fun way to end the day.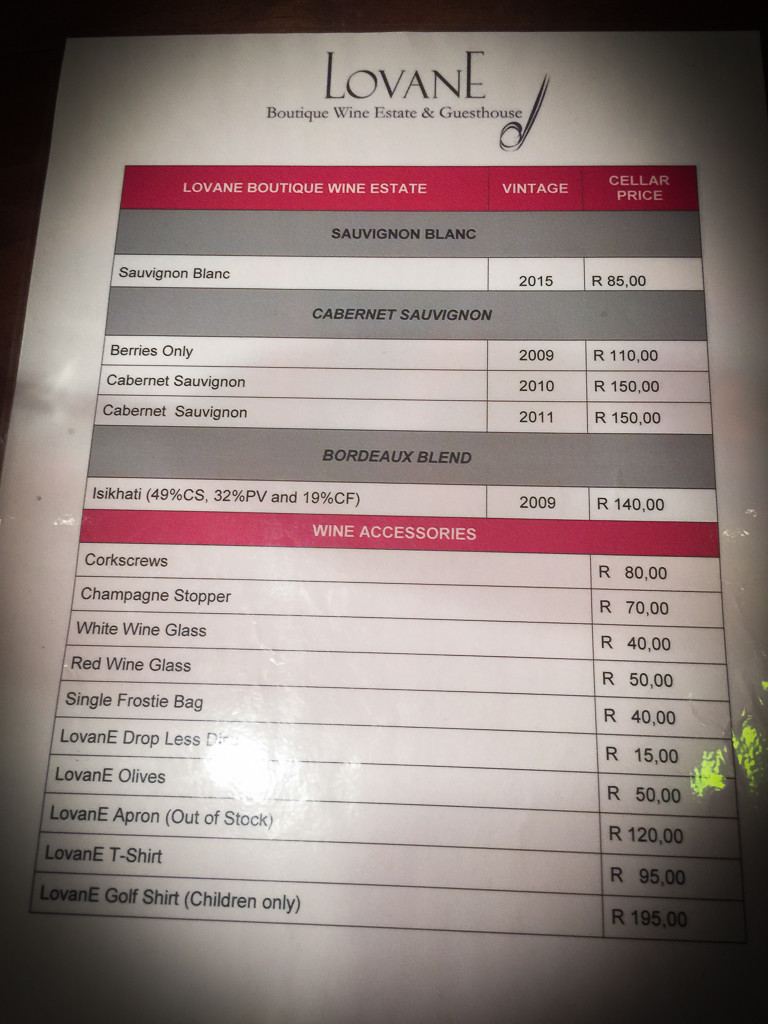 I did purchase here. I bought the Berries Only which was indeed berry-licious and paired well with the chocoate. I also picked up the 2010 Cabernet Sauvignon. Both were enjoyed with some Toronto actresses I know. 🙂
The whole day, including lunch with Wine Flies comes in at somewhere around $75 Canadian so excellent value.
Alright now, here's some wine tour advice. Do not drink everything. Only drink what you enjoy. That way, unlike some of my bus mates, you'll feel good on the way home. Also, when you are surprised with a quiz about the day you are the only one who is still with it so you'll probably win the prize bottle of wine. Sadly, in this case it was a Rosé. I don't like Rosé. Luckily, this other actress I know was able to enjoy it upon arriving in Cape Town.
Food, food, FOOD, fOOd, foooD!
So, one thing that can happen after you have kids is that you don't go to restaurants as much as you used to. You certainly don't go to "good" restaurants. And in our case, my daughter has many allergies, (some life-threatening), so we really don't get out much. To give you some idea, in four years, we've been on five movie dates, one involved dinner and we went for tapas one time before a work concert for my husband which I was shooting. Yep, that about sums it up. Restaurant dining was a bit of a re-kindling for me in Cape Town.
Oh GAWD, the food was good and really, really inexpensive. A stunning dinner, with appetizers and good wine aplenty for four people will run you about r1000 to r1200. In Canadian terms we're talking $20-$25 per person…including tip. No joke. Being in the heart of wine country, you can choose something any any price point but the equivalent of $10-$12 Canadian can get you something enjoyable, (ask the locals). Pay the equivalent of $15-$20 Canadian and you can be drinking really fine wine.
A few tips:
DON'T…
Eat at the V&A waterfront if you can avoid. It's really touristy, it's really ordinary and the service is generally lousy.
DO…
Dine on Bree St.
Dine on Kloof St.
SPECIFICALLY
DO…
Eat at Kloof Street House. This converted Victorian mansion knocked it out of the park for us on several occasions. My fellow actors raved about the ostrich and the halloumi. I personally died over two different versions of the calamari over two nights. One was a starter and one was a main. The staff was very conscientious and made sure that what I was ordering was gluten-free. For aforementioned dietary reasons I didn't get to partake but check out this dessert platter!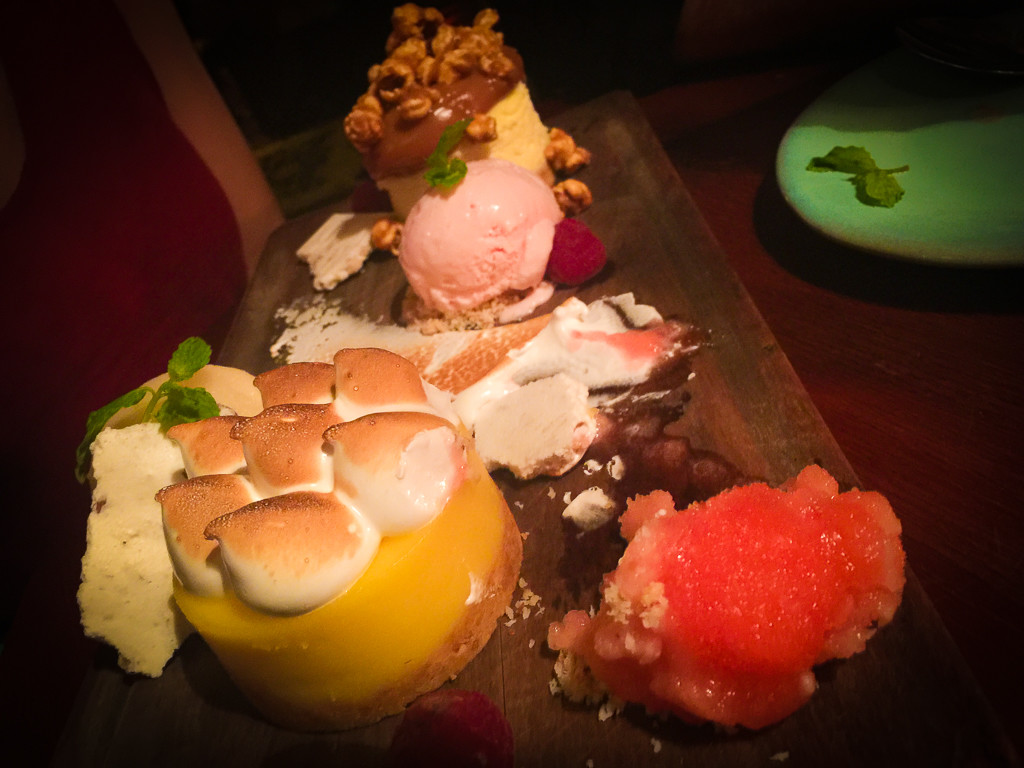 DO…
Eat at Café Paradiso. I actually disliked what I ordered as a main but don't let that stop you from going. Here's why: 1. The service was great. 2. The setting was delightful. (Eat outside. They'll offer you a blanket if it gets a little chilly.) 3. I ordered the wrong main. I ordered risotto with a flavour combination that just wasn't for me. (The gluten-free options were a little limited). That being said, I wish I'd had time to go back to Café Paradiso and try something different because the experience as a whole was fantastic. 4. Not only did they remove what I ordered from my bill but both a manager and a chef came to the table to make it right. I was embarrassed, but I really appreciated the effort. 5. The calamari salad I had as an appetizer was DELICIOUS.
DO…
Eat at Black Sheep. Walk, don't run. This is a casual, bistro style restaurant with a constantly changing menu. (In retrospect, that could be a bad thing because my very favourite dish in Cape Town, could just not be on the menu next time!)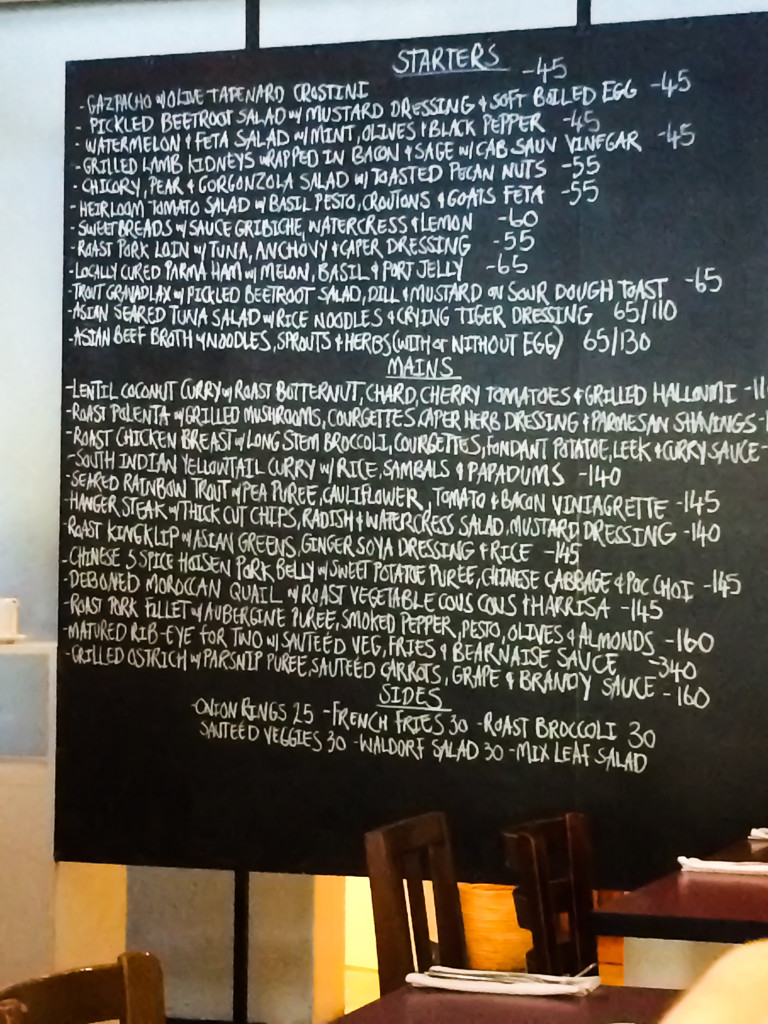 This place is busy, and it's a little loud but when the food and service are this good, who cares! Also, the serving staff took the most detailed care in making sure that what I ordered was gluten-free. As a side note, r100 is $ 8.70CAD at the time of this writing just to give you an idea. Here are some of the dishes my table enjoyed:
Roast Kingclip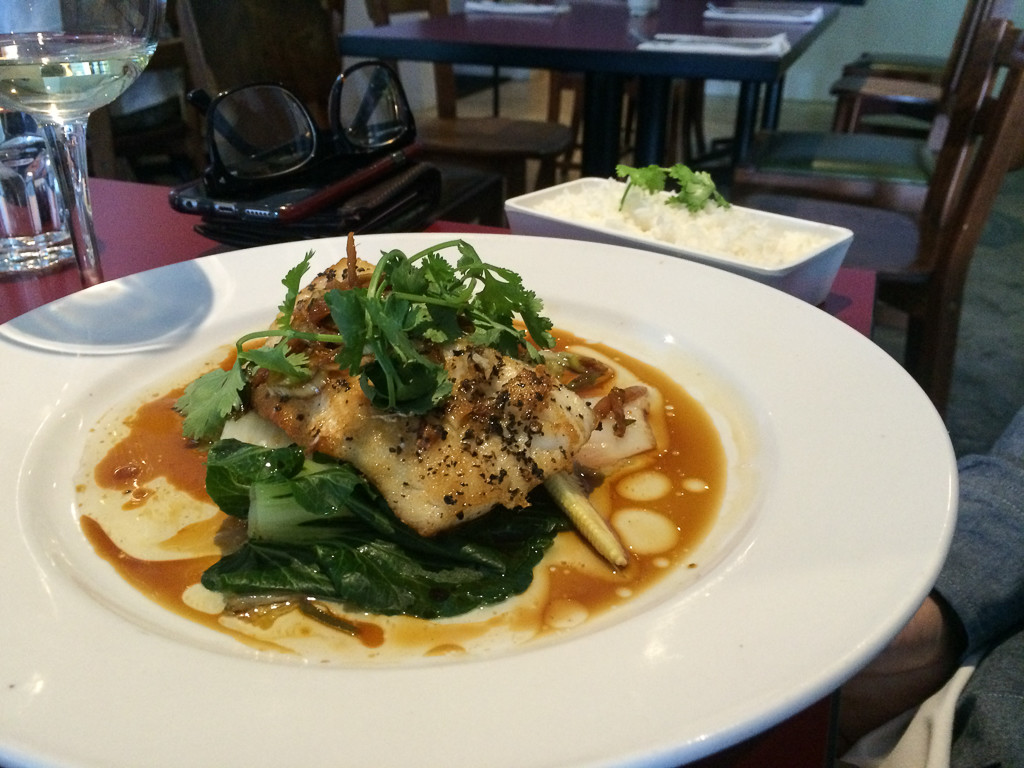 Rainbow Trout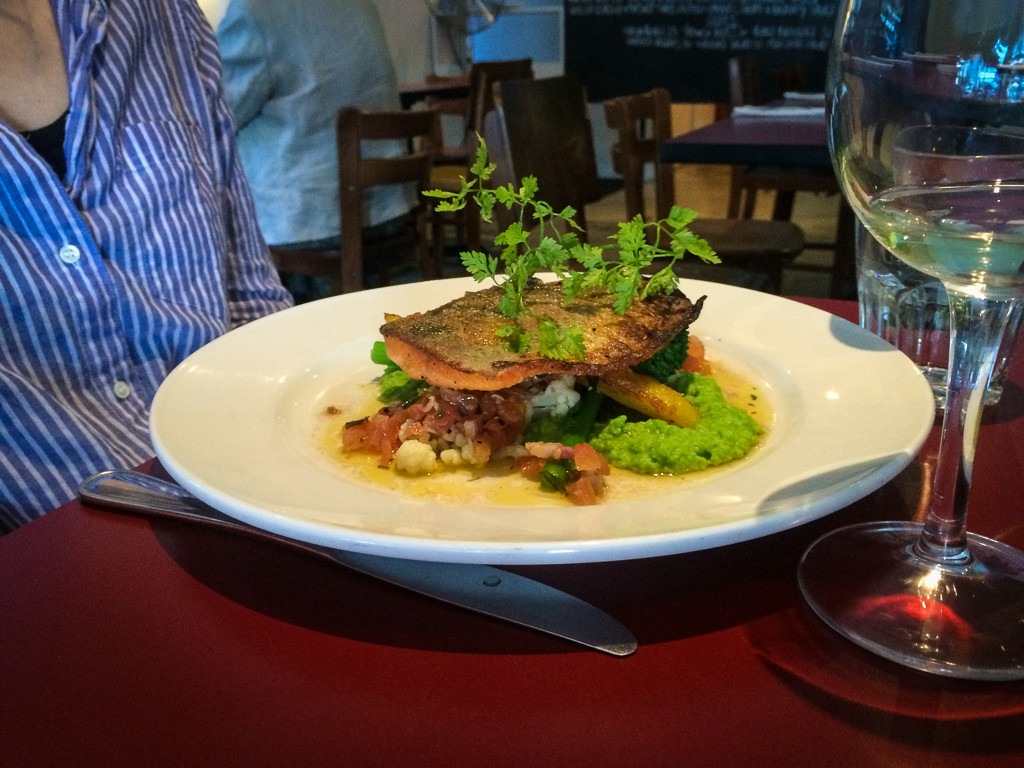 Grilled Ostrich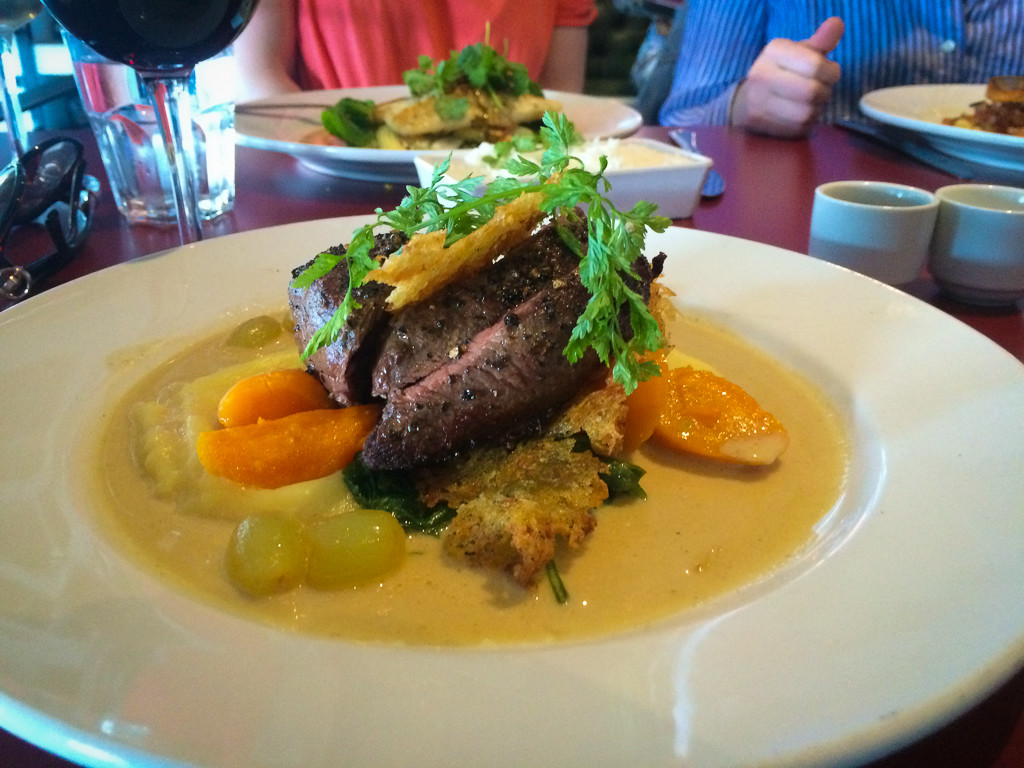 But actually, let me show you my favourite dish from Cape Town without a doubt. I had to go back for it before I left.
Pickled Beetroot Salad with Mustard Dressing and Soft Boiled Egg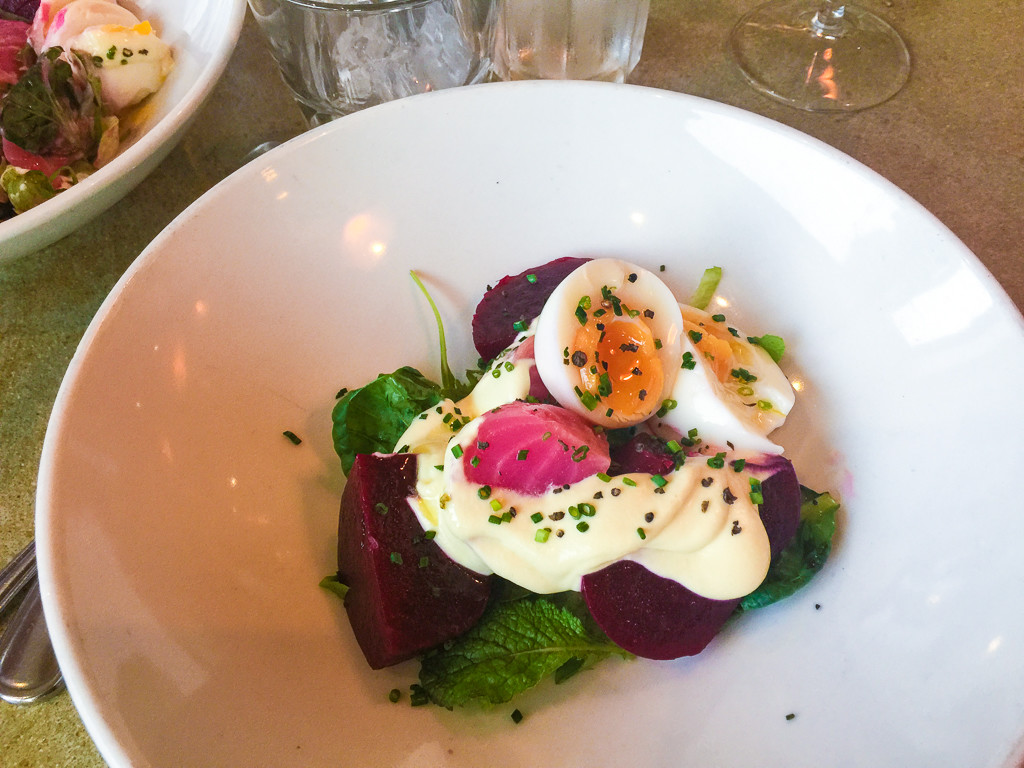 So simple but so beautifully done. This dish was a perfect thing. I loved it so much I will, figure out how to recreate it. I will. Do you think those are basil leaves? They look kinda crinkly. Mint? But the tips look too round. You think I'm joking?
Here's a picture of the beets I'm pickling: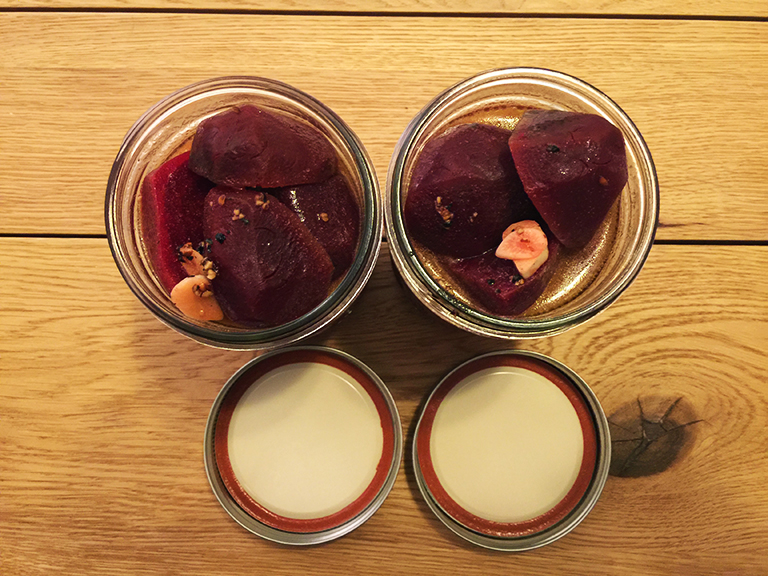 A few more shout-outs:
You should definitely check it out. It's raw and organically sprouted and actually pretty sexy. Sexy as in, the people are very flirty in an earth brother kinda way. It was fun.
This is South Africa's version of Beef Jerky. If jerky type meats is your thing, people were losing their minds over Billtong. I'm not really a jerky eater so I'll have to take their word for it. Caveat: you can't bring it back to Canada… legally.
I know I just said to avoid the V&A for food. This is the exception. This food market has tonnes of local delicacies, bakeries, nut stands…sort of a Chelsea Market feel to it but more food stands. The best spice and cocoa covered cashews I've ever tasted and a yummy gluten-free bakery. This market is situated right in front of the Watershed Market which brings us to shopping!
PS. In case you missed it, I've already talked about where to get the good coffee in this post.
Shopping, SHOPPING, sHopping, shopPING!
Yes, this is the place where tourists shop. Yes it's filled with trinkets. Yes many of the trinkets are cheesy. I wouldn't classify Cape Town as a huge shopping destination. There are malls. They look like ours with a few more European options. Largely, I would say, don't waste time, go to the Watershed and get your shopping done. My two favourite things purchased in Cape Town were for my daughter.
The first was this dress: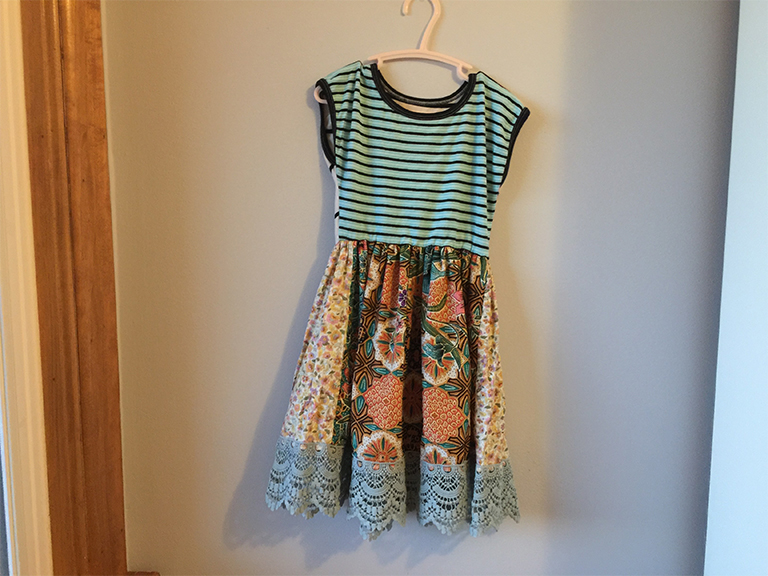 I loved this stand because the dresses, aprons and toys in the shop are all made in the townships using vintage fabrics and factory ends. The money earned, goes back into the townships. Every item is unique. I wish I had bought more.
The second was this doll,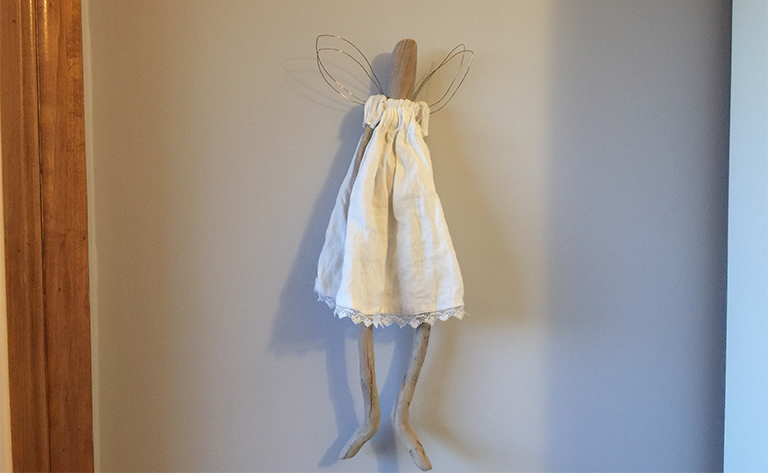 These dolls are handmade using local driftwood and vintage linen.  Magical. I fell in love with the idea of a faceless doll, if only to combat the Disney image in my own little way. My daughter loved both the dress and the doll.
At the market you will also find a multitude of  beautiful hand-painted linens and dishes which are definitely worth looking at.
Another stand worth checking out is the guy who makes sculptures from recycled flip flops. I didn't end up purchasing one but they were definitely cool and I kind of wish I had.
A few more shopping tips:
Finally, here are some of my shots from the Stellenbosch region. Beautiful scenery and some upscale settlements in stark contrast to the townships which is the push, pull you feel every day in South Africa, capped off with a view of Table Mountain wearing her table cloth upon our return.
When it comes to food and wine in Cape Town, really, you're not going to get better anywhere and the affordability factor is off-the-hook. If you are into travel, if you're a foodie, if you like wine, this place is absolutely a must-do and that's without taking mountains, sunsets and safaris into account. But we'll get to more of that stuff in upcoming posts.
Hey, if you want to make sure not to miss any, follow me using any or all of the methods below and if you know someone who's traveling to Cape Town pass it on!