I've been thinking a lot lately about the animals lately– Harambe and all. I don't have any answers but I got to visit the Aquila Animal Rescue and Conservation Centre earlier this year and what they're doing is pretty extraordinary. I'm going to re-order the last couple of blog posts from my recent trip to and share what I experienced on safari at Aquila next. First, a bit of a bit of housekeeping.
In the strictest sense, what I went on was not a real safari. For that, you'd want to go on a tenting trip to Kruger National Park. You'd need an experienced guide for that and it's a Malaria zone so you'd also need the proper vaccines to go in. It's not cheap. I didn't feel I had the time or funds to do both regions on this trip so I figure I'll just have to book a job shooting in Johannesburg next time and I'll be golden. 🙂
This time, since I wanted to stay in and around Cape Town I opted for the Aquila Private Game Preserve. The Safari experience itself was good. I've had the good fortune in my life to have experienced  polar bear, caribou, arctic fox, bison, moose, deer, seals and brown bears in the wild and this measured up in many ways. No matter how you cut it, being in the presence of these amazing creatures with nothing standing between you is an exciting and humbling feeling.
I got some some pretty good shots of the animals but first I want to tell you more about the Aquila Animal Rescure and Conservation Centre which you get to visit, time permitting, at the end of your Safari experience. What I saw there was devastating. In Africa, there are some horrible practices where large game is concerned. Here's the story:
See this guy right here?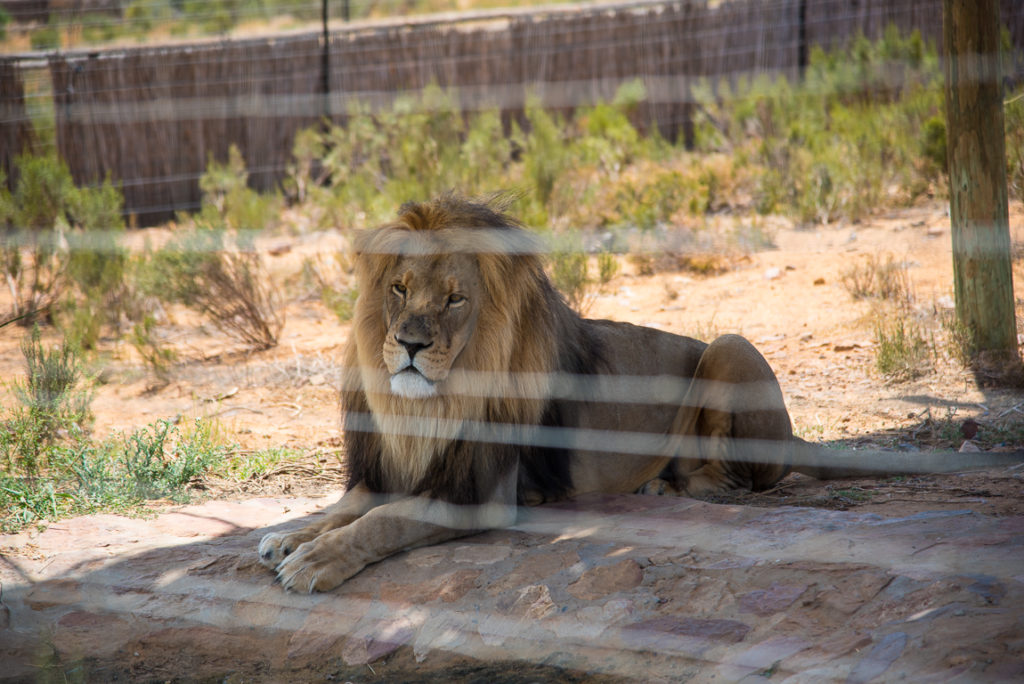 And this  lady?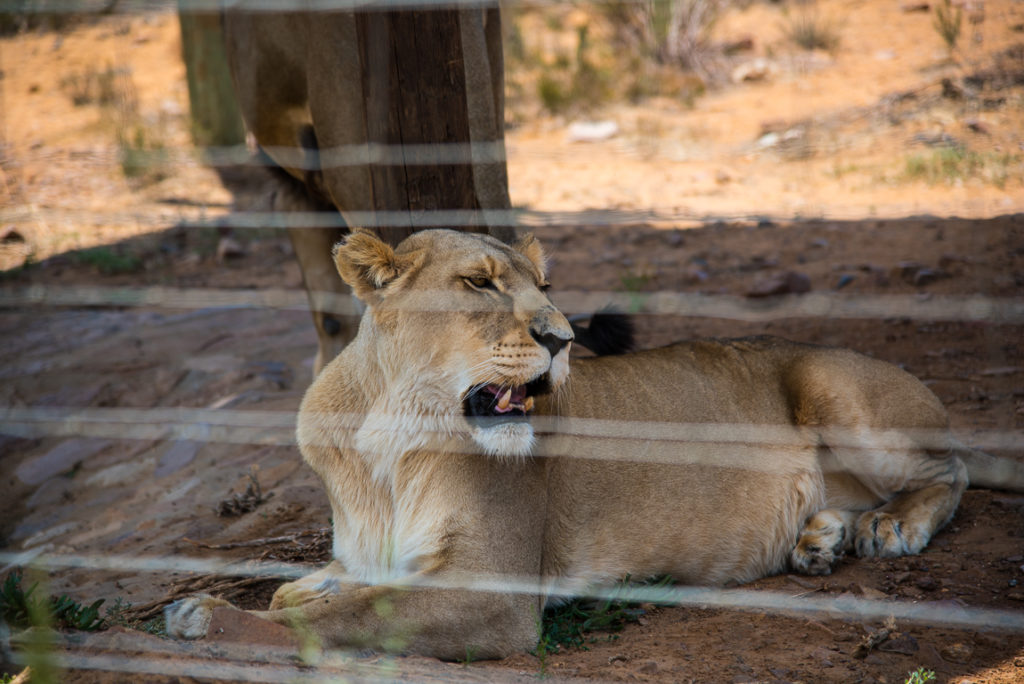 They are "canned" lions. Apologies in advance for horrifying but here's what that means: Lions are bred and raised in captivity so that some rich a$$hole can pay a lot of money to come and hunt and shoot said lion at point blank range. All this, so said rich a$$hole can claim having killed a lion. That's the long and short of it. These lions are given sanctuary by Aquilla because, having been bred and raised in captivity, they lack the necessary life skills to survive in the wild.
On the upside, at least they have each other…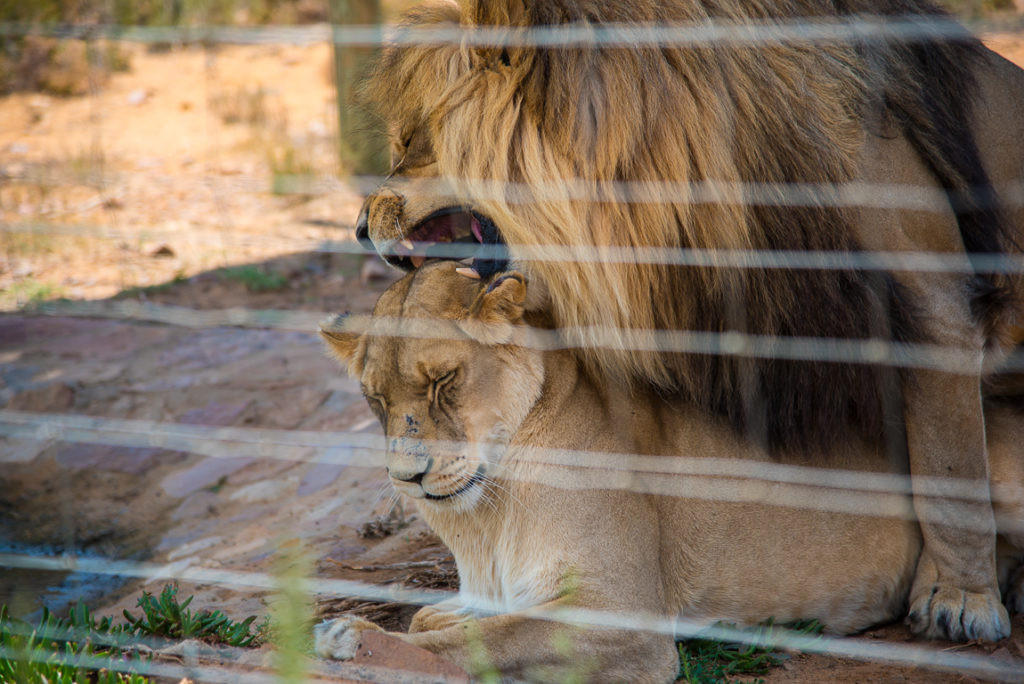 Even if Mama is having nothing to do with his advances today.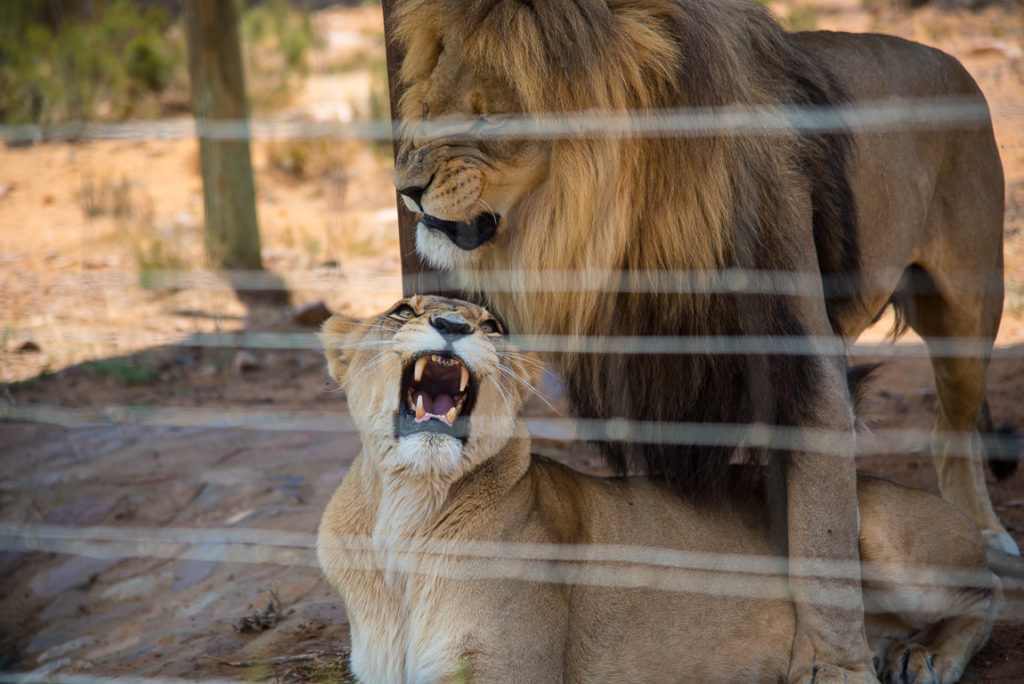 No consent given. Walk away pal.
See? Even the lions know.
This beauty was  also a rescue: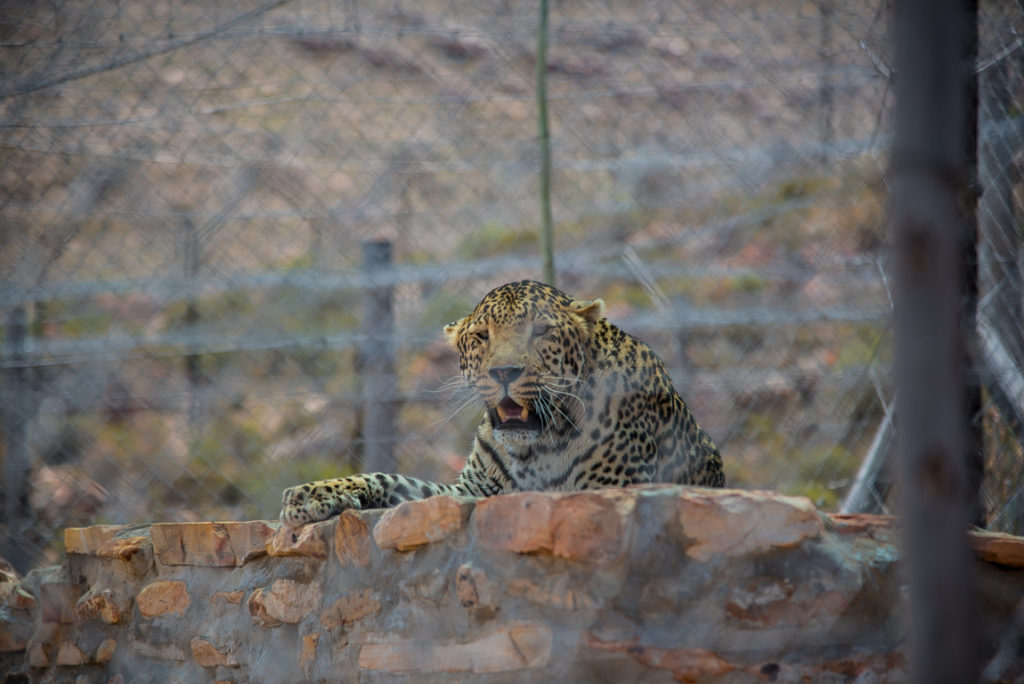 Aquilla was hit hard by rhino poachers in 2011. The poachers kill rhinos for the tusks– cut them right off their faces. So you see, these animals are in dire need of help.
Don't get me wrong. We have had our similar garbage here in Canada. I don't know if this is still a thing but back in the 90's, I worked as a flight-attendant in the arctic. Up north, back then, you often got stuck bunking with your passengers because the "hotels" didn't have enough space. This one time, I got stuck with a really rich guy who had paid a bazillion dollars to come here and shoot a polar bear. Guy had a taxidermy museum in his castle which the local schools used for teaching tours. Can't remember where he was from, UK? Germany? Switzerland? Anyway point being, for a price, we've been equally atrocious here in Canada.
Of course I'm telling you all of this because initiatives like Aquilla don't happen for free. This is a real conservation facility and it's doing really important work. I can't tell you how clear it was how much our guide Freddy, (who was amazing), and the staff I encountered cared about their work and the beautiful animals they care for. But there's only so much a place like this can do without support. So, you know, donate here if you can.
Here are my shots from safari. There are baby rhinos and zebras involved. If you never been on the receiving end of a Mama rhino putting her head down and growling to signal you're too close, I can tell you it's a thing and Freddy backed us off in a damn hurry. Also, an elephant showing off with a sand shower is pretty fun. *Travel tip: If i were to do it again, I'd make sure to do an early morning or evening drive rather than midday where the animals are less active due to the heat. Enjoy!
Hey, this is the "call to action" part of my post where I tell you to follow me on social, join the mailing list etc. So, you know, do that if you want.