South Africa is an earth-shatteringly beautiful place to visit but it will break your heart too. Amidst some of the most astounding scenery I have ever seen is this aching reminder that so many people live in conditions that are literally unimaginable to us. In Cape Town proper, the range of what you can see in a day is astounding. This blog post is about gardens to ghettos to sunsets and everything in between to try and give a wide shot on the experience.
I debated with myself a lot about going into the townships and particularly about photographing there but at the end of the day, I felt that somehow it would be wrong to ignore that perspective. The reality is that somewhere between 8 and 9 million people, (at the time of 2011 census), live in the townships of South Africa.
The townships were born of the apartheid era when Blacks, Coloureds (mixed race) and Indians were evicted from "white" areas and segregated based on race. Now though, townships are informal settlements that provide safe harbour for immigrants from the poorer parts of Africa. Poorer parts of Africa, that deserves saying twice. According to my guide Kenny Tokwe at Imizamo Yethu, (one does not go into townships unaccompanied ), townships are largely unsupported by the government.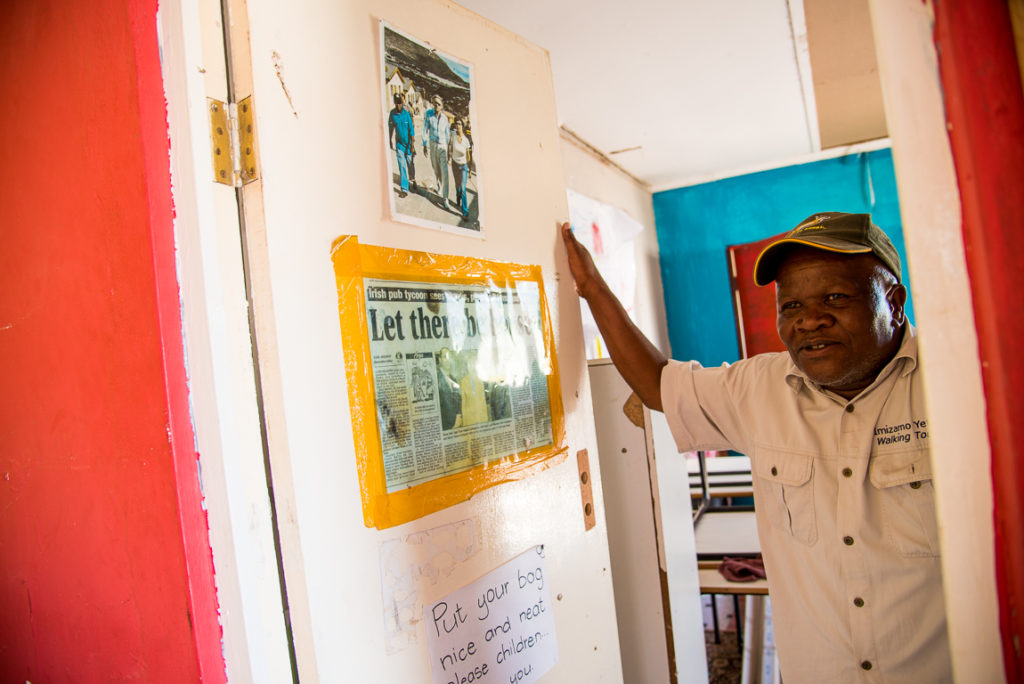 He went on to say that the local community  had been somewhat shamed into supporting Imizamo Yethu by the good deeds of international philanthropists who have provided huge injections into the town.   If you saw Trevor Noah's bit on Jacob Zuma and the Nkandla scandal, you'll find this lack of government support even more disgusting. The short version: a lot of money spent on one man's swimming pool. Granted, in Africa there always seems to be three sides to every story but in this case it's pretty simple. There are haves and have nots, Jacob Zuma being the former and the people of  Imizamo Yethu being the latter.
If you don't know who Jacob Zuma is, he's this guy (President of South Africa, many wives):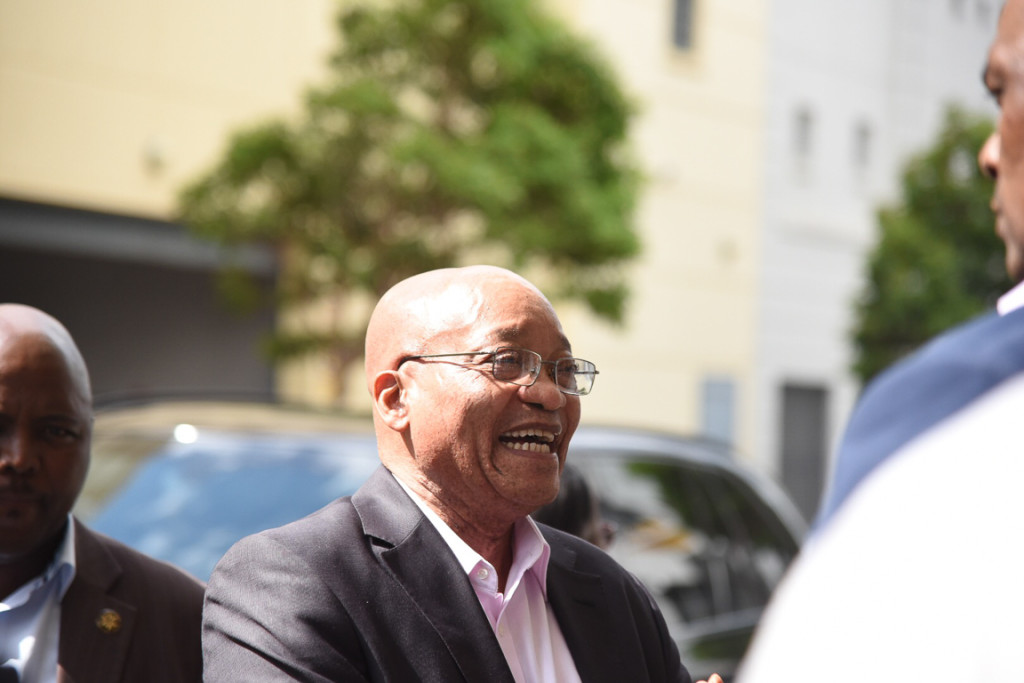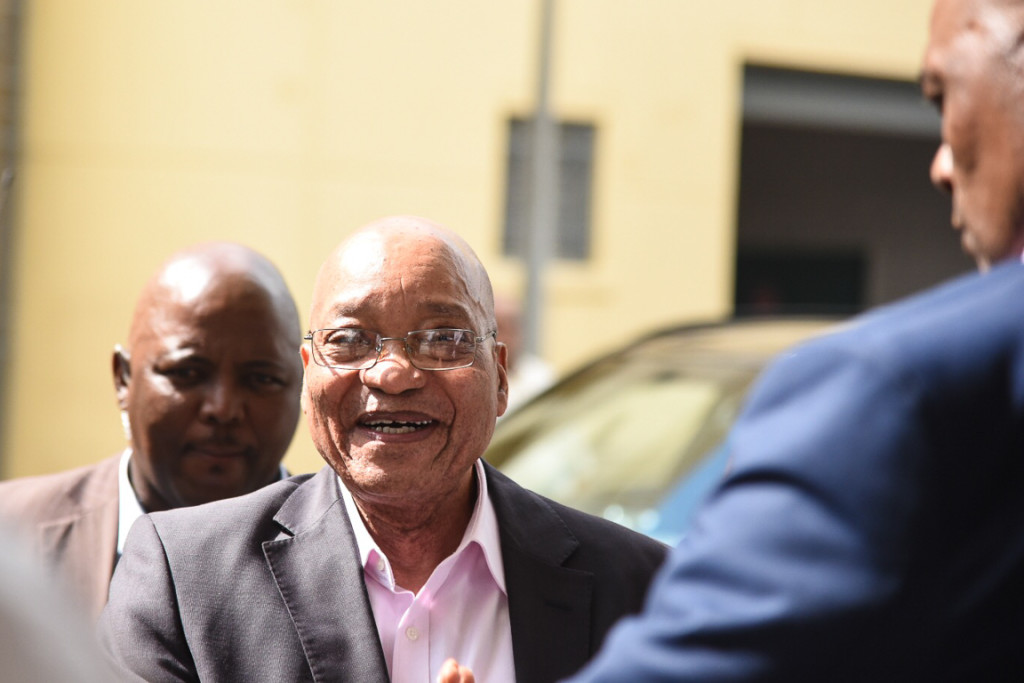 After I shot the above frame, President Zuma started glad handing the photographers. He came towards me for a moment with his hand about to extend. We looked at each other and he did not shake my hand. I wonder what made him stop but I was a bit relieved truth be told.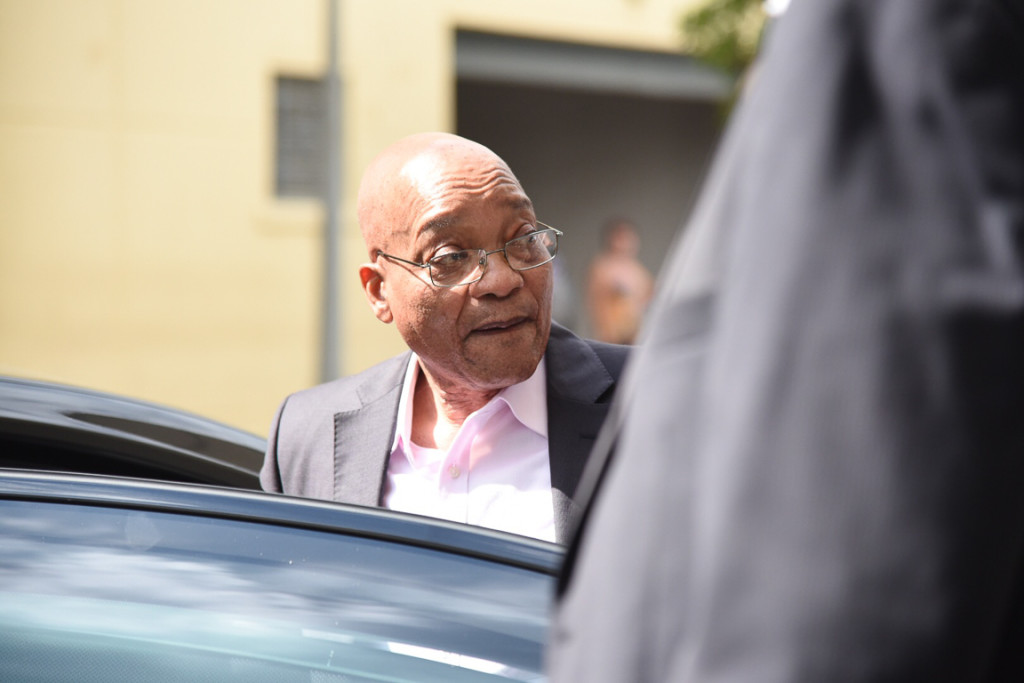 As it turns out, the hotel I was staying at occasionally hosts his press conferences so I can now say I shot a president in close-up. Total accident. I got back to the hotel after an afternoon of adventuring and the paparazzi were everywhere…not to mention the presidential detail: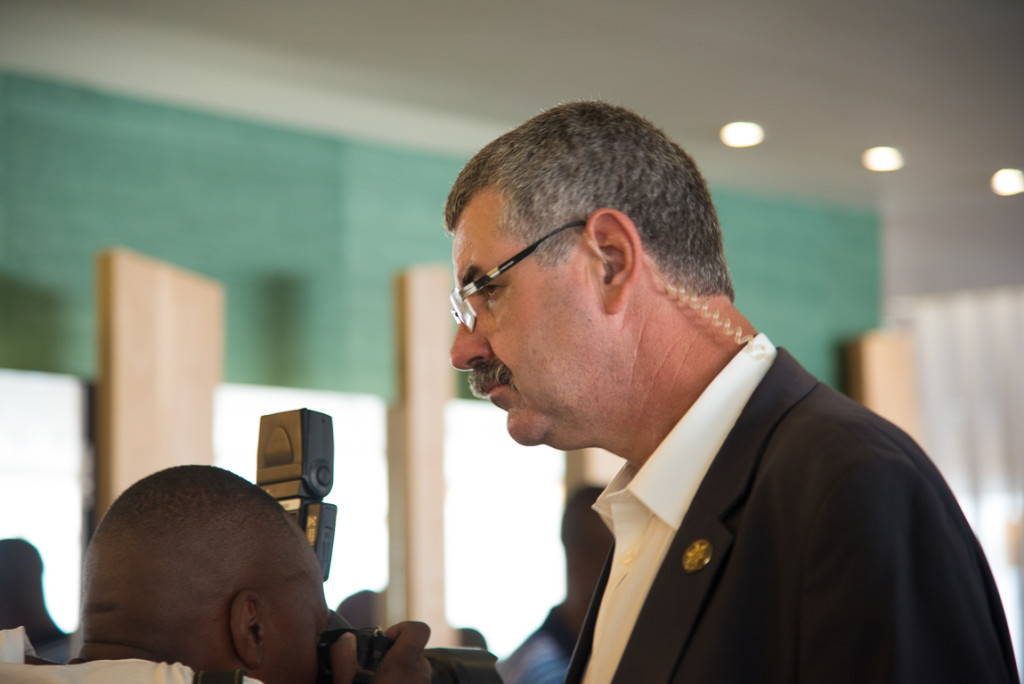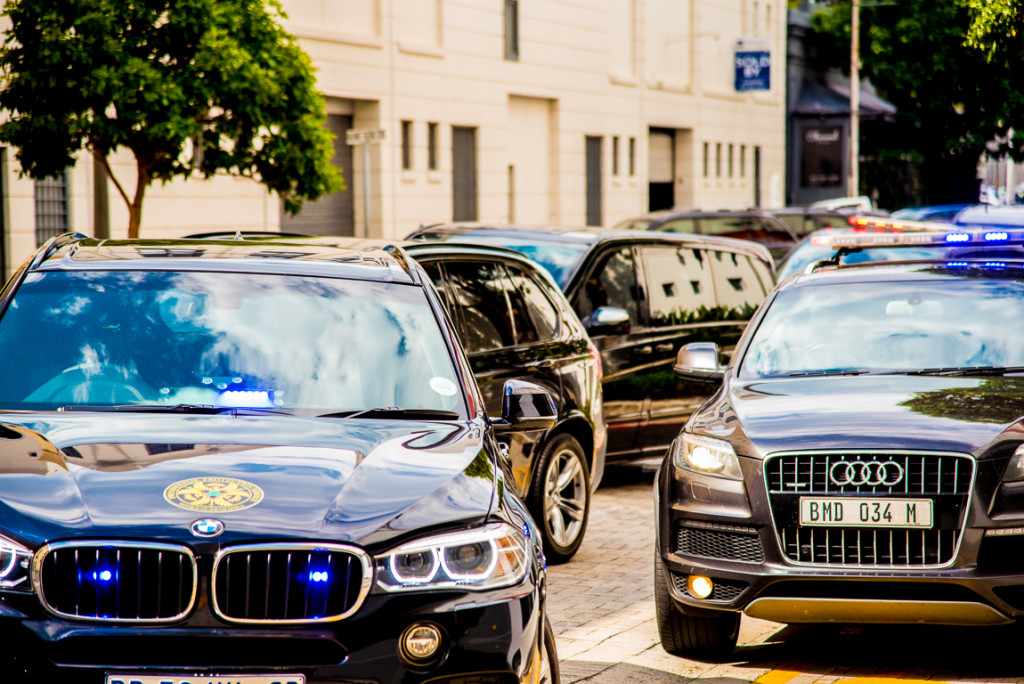 I  simply joined the crowd and started shooting. Life is strange sometimes.
Anyway, I wanted to do this "day of touring" post to try and shed light on the disparity that you feel in Cape Town. Many moons ago, I was a flight-attendant and I have some experience seeing lots in short time spans but this day was decidedly intense, even for me.
I started out at the Kirstenbosch Botanical Gardens. If you've been following my trip, you already know that I forgot my camera battery the first time I went and did a wine tour instead. On this day, I remembered my battery. It happened to be a Sunday so I also hit up the market at Kirstenbosch, (totally worth it). Before I show you the gallery, here are five things worth knowing:
Kirstenbosch National Botanical Gardens is a UNESCO World Heritage Site and the largest of the gardens in Africa.
The Dalai Lama has addressed a crowd there to kick off a festival.
There is a tree-top walk that is a must-do for the vistas.
 I visited the garden  on a very, very hot day. There are very big hills to climb and this reality should not be taken lightly. If you are not fit, take the tram. Also, the first day I went, I wore flip-flops. Nope.
The restaurant is good.
*Thing to note: I visited during the African summer so it was evident that some of the species were past their prime. That being said, still the most beautiful garden I've been to. I can't imagine what I would have seen during the spring/summer season.
When I left the garden, I was still really back-and-forth about going into the townships but for many good reasons, (I think), I went in. It was so hot that day, I thought I might pass out but it made the experience even more surreal as I tried to imagine living and sleeping inside the tin huts. I took some pictures in the community but sparingly.
The first house I went into was a three room tin shack; maybe 400 ft/sq that was a home to six people. The doorway opened onto a kitchen with a bedroom on either side with a bank of four bathrooms up the hill to serve twelve homes.  I couldn't look anyone in the face because I was a melting, weeping mess. When I got back to Canada, an article appeared in my feed about tears being a privilege of the comfortable and I though "Yeah, that's right, check that shit."
The people I met were so hopeful, so bright and positive and wanting a better life. The little girl you'll see playing at the edge of her tin hut? She came out of her hut, saw me, looked me straight in the eye and gave me a high five. She had hope in her eyes. I couldn't help but superimpose my daughter; this sickening mix of gratitude and guilt and wondering how we let it happen…cause it's not just in Africa to be clear.
Further along the way there were children singing at the top of their lungs and high-school students playing soccer. At the "after-school" facility, a couple of volunteers were working hard to bring the building up to "code" as they would be facing inspection from the city of Cape Town the following morning. That's what I tried to shoot without ignoring the real of it but man, these people are positive. Push/pull, push/pull. The real scary thing is that Imizamo Yethu is probably one of the most supported townships in South Africa due to it's proximity–think townships light. If you look at the fourth and fifth from last images in the gallery, you can kind of get what this post is all about; the tin hut with laundry hanging out front and the street scene set against the backdrop of the sickeningly rich subdivision that is literally across the highway.
Anyway, listen, I don't know if going and shooting was right or wrong but awareness is awareness and I do know that the  Iziko Lobomi Centre of Life provides so much for the community; everything from health care to disaster assistance, after school help to a teen hangout; entertainment to job training and it's well worth your donation if you can afford it. If you want more information my guide and local activist Kenny Tokwe would be about to tell you all about the programs and how you can help. Drop me a line for details on how to get in touch with him.
I left the community just after midday and headed on the bus back to the V&A Waterfront via Clifton and rich surroundings. Despite the fact that I'd already traveled through these areas several times, I had a new perspective on luxury and disparity that day. Some of my shots from the air-conditioned bus ride and my eventual arrival at the V&A Waterfront where I intended to end my day.
So there I was, done. Huge day. I hopped in an Uber to head back to the hotel and then the sunset started to develop. That's a thing in Cape Town. Weather and sunsets develop and sometimes really fast. I saw it coming and I had to do it. I asked my driver to skip the hotel and head straight up Signal Hill. I could already tell that there was a traffic snarl, clearly not the only one who noticed the developing sunset. I knew once I got up that there was no easy way down. I didn't have the two-day bus ticket on this day, (which you need to ride the red bus down), and I knew there was no chance of getting an Uber back up through the traffic. Didn't care. I'll talk my way onto the bus later. Here's why:
And then the bus… Wait. What? Who was that in the helmet? In that last picture through the window?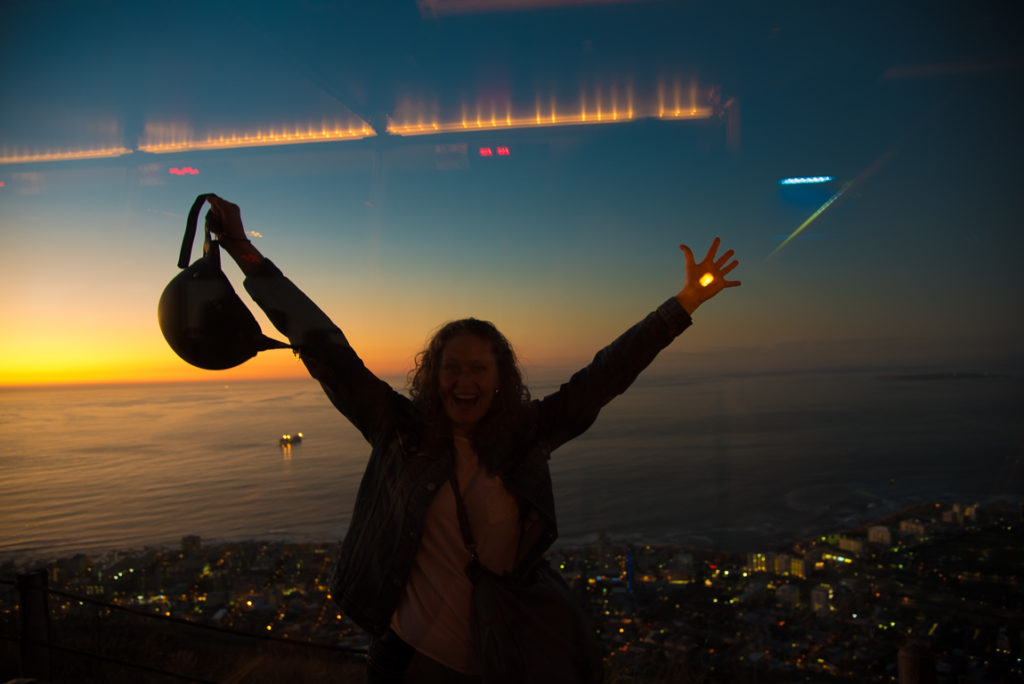 Toronto actress Joanna Swan! Fancy meeting you here! Sure is a small world 😉
Cape Town is a wild and crazy place. Where else in the world can you go from the most beautiful garden you've ever seen, to the harshest ghetto with the most positive people you've ever met, to an elite resort town, to a tourist hub to one of the most beautiful sunsets you've ever seen in your life and then bump into someone you know…all in one day. Cape Town. The push/pull of Cape Town.
Hey guys, if you enjoy my meanderings make sure to follow me using the icons below. I have two more posts to come about South Africa and one of them will involve animals, I promise.